The centrepiece of any performance - the stage. It has to look good, be stable and be safe. Utilising some of the best equipment in the live events industry, we achieve all three on every stage we build.
Stage Roof Systems
When organising an outdoor event, you don't want to take a chance on the weather. The stage roof not only keeps the performers and equipment on the stage dry but it also offers some protection from the wind and shade from sunlight. Depending on the roof design, it can also facilitate flying for lighting and associated equipment, negating the need for additional grid systems to be installed.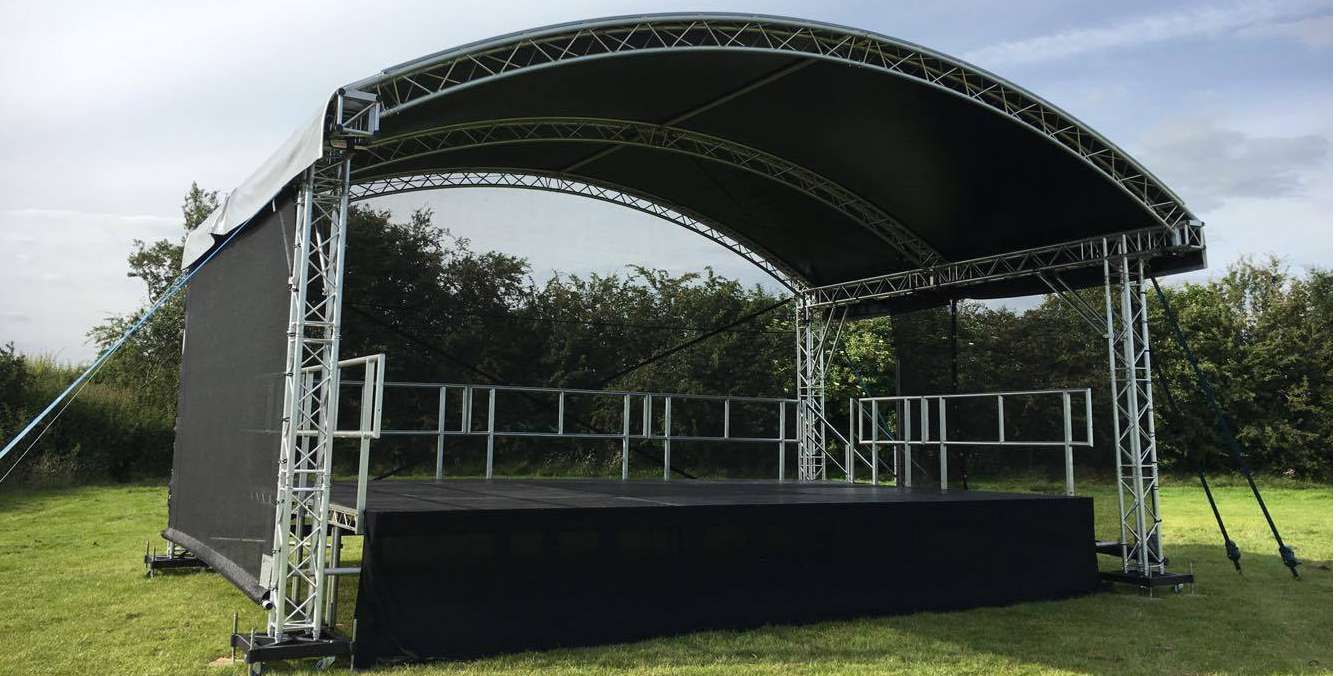 At Aura, we stock a range of options for stage roof systems to meet the size requirements of the event. The smallest stages for community events or similar can be catered for using pop up gazebos which is a budget concious solution. These are available in 3m x 3m or 4.5m x 3m.
For medium size events, we offer the Prolyte Arc Roof system, available in 6m x 4m and 8m x 6m sizes. These are perfect for small-medium music festivals where the overall aesthetics are key and where it is likely that lighting will need to be flown above the stage.
For larger scale events, or where a large stage space is needed, we stock a 15m x 7.5m inflatable roof.
Stage Decking
Either as a stand alone stage or in conjunction with a stage roof, Litedeck modular staging enables virtually any size platform to be constructed with relative ease. It can be built on level, sloping or uneven ground, so regardless of the space you have to work with, we can build a stage platform for your event. As well as a traditional stage, we can build catwalks, tiered seating, viewing/VIP platforms, access ramps and much more, all with one system.
Safety
As with any temporary demountable structure, safety is paramount. All our systems are used in line with the manufacturers guidance and structural calculations can be provided where applicable. As with all our work, detailed risk assessments and method statements can be supplied along with signing off paperwork for all structures we build.